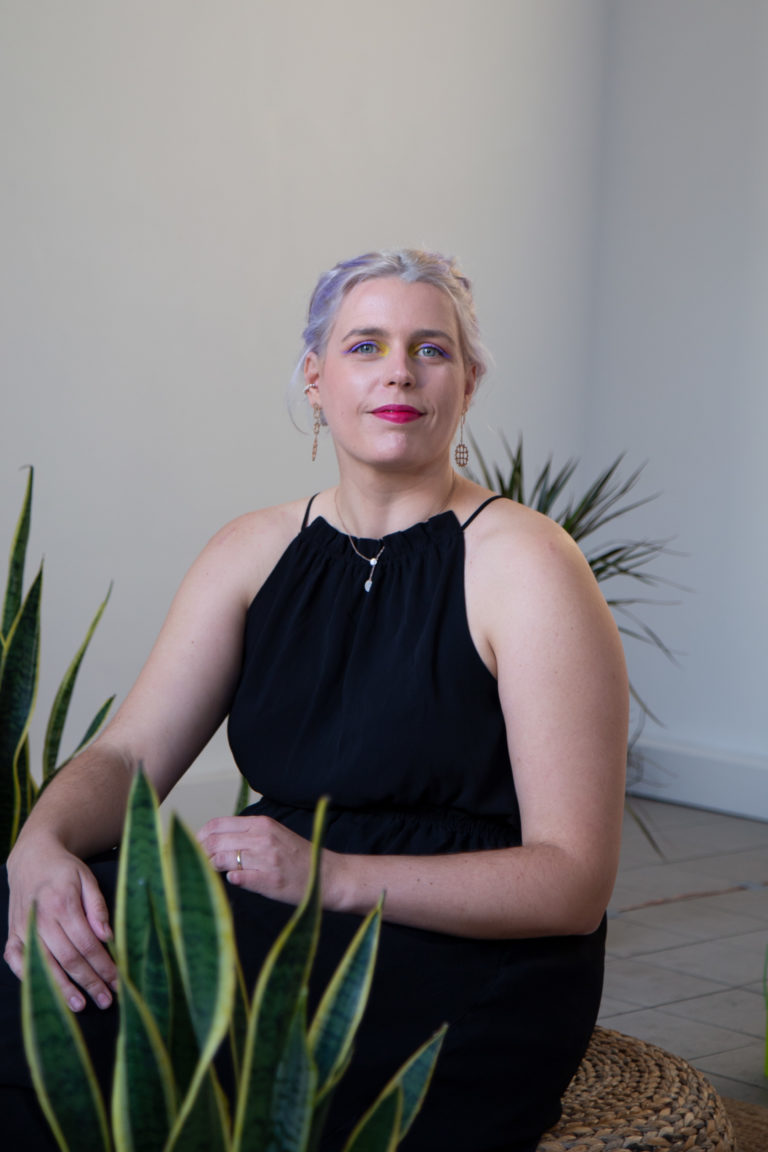 Say hi: lena.violetta.leitner@gmail.com
What if invasive mussels laid out the future for us with tarot cards?
An Integration Center for Migrated Plants would decide on the right to stay of "alien species"?
Or a ghostly mail account of a buried river would infiltrate the global platform Google Maps?
Lena Violetta Leitner 
invents, intervenes and cooperates.
Her works move between fiction and fact, humor and seriousness, subtlety and conspicuousness. They are usually created in intensive research and in close exchange with artists, designers and scientists.
This results in participatory installations, but also performances with plants, electronics and text. As the artist duo Kollektiv OutSight, Leitner works together with Steffi Baron-Neuhuber with sound, text, and language. With the ecofeminist and socio-artistic Danube Transformation Agency for Agency (DTAFA), she uses hybrid practices between visual art, design and science to advocate for a livable future for the Danube.
Plants and their socio-political dimension fascinate her, especially the connections between science (especially biology), language and society.
As head of the IZMP, she decides on the right to stay of alien plants.
In one of her most recent projects, Lena Violetta Leitner asks what is "natural" and what is "foreign". She often sets up her projects as long-term studies that are reminiscent of scientific research structures.
A fictional research center – IZMP – is the focus. The transfer of general problem contexts to plants, the scientific language, the ironic joke and the multimedia context make this art a critique of social clichés and political stereotypes.
Christiane Kada / Petra Sieder-Grabner
Katalog – Landes Kunst und Kultur Preise, Steiermark 2019
Neue Galerie Graz (AT)    
Förderungspreis des Landes Steiermark für zeitgenössische bildende Kunst 2019 

EHESS Paris (FR)
Study Days 2019 – Green Aliens Under The Microscope. Lecture Performance.
Botanical Gardens Graz (AT) 
Solo Exhibition
THE ESSENCE, Vienna (AT)    

Heldinnenzentrale, Vienna (AT)
Schlage Wurzeln, Verwurzle dich nicht (A Lovesong) with Maria Hera
AA Collections, Vienna (AT)
CORPOREAL, Trio Exhibition with Andrea Palašti and Paloma Tendero
Wittgensteinhaus, Vienna (AT)
Vergessene Frauen – Hammerherrinnen (soundperformance and installation with Ela A. Sattler) 

Gallery U10, Belgrade (SRB)
Hacking the Network, Trio Exhibition with Maria Hera and Sejma Ferré
Gallery Trebinje (BiH)
TV16

Amonhaus, Lunz am See (AT) Viertelfestival
Performance as Kollektiv OutSight
Friday Exit, Vienna (AT)
I can't connect at all – collective show Mz Baltazar's Laboratory & Kollektiv OutSight

Mz Baltazar's Laboratory, Vienna (AT)
Daily Diet – Duo Exhibition with Sejma Ferré

Redcarpet Showroom, Vienna (AT)
Tatorte – Solo Exhibition with Nora Staggl as Living Skirts

Kunstverein Baden (AT)
pigons, manifests and more 

Nationalgallery Mala Stanice, Skopje (MKD)
Obsession – Exhibition and residency as Kollektiv OutSight
das weisse haus, Vienna (AT)
Contemporaries of the near future
Biennale Sessions Giardini, Venedig (IT)
Vertikal 
das weisse haus, Vienna (AT)
digital frictions 

New Zero Art Gallery, Yangon (MYA)
Myanmar Multimedia Festival
City Museum, Skopje (MKD)
White Night 
City Museum, Graz (AT)
photo biennale 

2024
HIAP Helsinki – BMKÖS
2022
State of Concept Athens (GR) (grant by Land Steiermark)
auf! auf! with Kollektiv OutSight at Lehartheater, Bad Ischl (AT)
Novi Sad (European Capital of Culture) with DTAFA
2021
Gallery Reflektor, Užice (RS)
2017
Land Steiermark / Come on, Lunz am See
2016
Viertelfestival, Lunz am See
2015
Friday Exit as Kollektiv OutSight
2014
Nationalgallery Mala Stanica, Skopje as Kollektiv OutSight
In Parallel – Graz & Sarajevo
"TREMATE" in Zine COAPPARATION I, II, III, ed. Claudia Reiche, Andrea Sick, thealit Bremen (2022)
Interview postcoronal Podcast (2020)
"Sprachlabor. Benimmkurs.", LANDSTRICH Nr. 35 (2019)
Ausstellungstext für KulturKontakt Austria (2019)
Text for HERstory, KulturKontakt Austria (2018)
"Hammerherrin", art book with E.A. Sattler (2018)
"Protokoll", in Von Fluchten und Wiederfluchten (Hg. Artur Nickel), Geest-Verlag (2017)
"Eisen", LANDSTRICH Nr.33 (2017)
"Entrinnerung", Inszenierte Projekte, Edition Selene (2013)
"Clean Art", Portable Exhibtion (Hg. Sejma Ferré) (2013)
2023
Mentoring Program Art, Academy of Fine Arts Vienna
2022
Start Scholarship Media Art (BMKÖS)
Ö1 awards "Fixing the Future" (with DTAFA)
Atelier grant, Styria
2020
Working grant, city of Vienna
2019
Working grant in the frame of the Promotional Prize for Contemporary Fine Art, Styria
2018
Mediaprize WIG, Vienna 
with Maria Hera and FEM