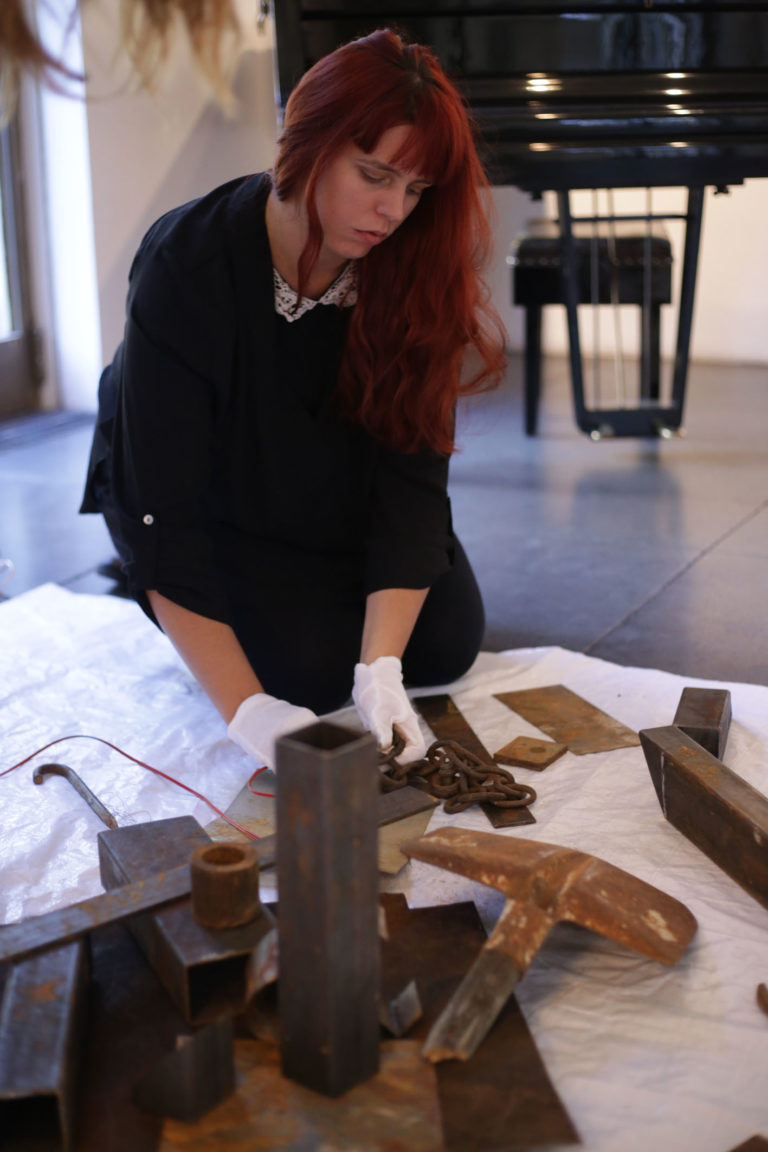 what happens when used machines start talking?
when an Integration Center for Migrated Plants gives german courses to foreign plants?
.
Lena Violetta Leitner invents, intervenes and exchanges. In 2017, she graduated from the University of Applied Arts Vienna (Digital Arts) with the foundation of the Integration Center for Migrated Plants – IZMP. 
In her work, she explores power structures and social patterns through means of irony and humor. The works, which range from installations to interventions to (sculptural) performances, question our constructions of the 'natural' or 'foreign'. They use language in the form of code, text and sound, hacking objects, systems and structures.
Neue Galerie Graz (AT)    
Förderungspreis des Landes Steiermark für zeitgenössische bildende Kunst 2019 

EHESS Paris (FR)
Study Days 2019 – Green Aliens Under The Microscope. Lecture Performance.
Botanical Gardens Graz (AT) 
Solo Exhibition
THE ESSENCE, Vienna (AT)    

Heldinnenzentrale, Vienna (AT)
Schlage Wurzeln, Verwurzle dich nicht (A Lovesong) with Maria Hera
AA Collections, Vienna (AT)
CORPOREAL, Trio Exhibition with Andrea Palašti and Paloma Tendero
Wittgensteinhaus, Vienna (AT)
Vergessene Frauen – Hammerherrinnen (soundperformance and installation with Ela A. Sattler) 

Gallery U10, Belgrade (SRB)
Hacking the Network, Trio Exhibition with Maria Hera and Sejma Ferré
Gallery Trebinje (BiH)
TV16

Amonhaus, Lunz am See (AT) Viertelfestival
Performance as Kollektiv OutSight
Friday Exit, Vienna (AT)
I can't connect at all – collective show Mz Baltazar's Laboratory & Kollektiv OutSight

Mz Baltazar's Laboratory, Vienna (AT)
Daily Diet – Duo Exhibition with Sejma Ferré

Redcarpet Showroom, Vienna (AT)
Tatorte – Solo Exhibition with Nora Staggl as Living Skirts

Kunstverein Baden (AT)
pigons, manifests and more 

Nationalgallery Mala Stanice, Skopje (MKD)
Obsession – Exhibition and residency as Kollektiv OutSight
das weisse haus, Vienna (AT)
Contemporaries of the near future
Biennale Sessions Giardini, Venedig (IT)
Vertikal 
das weisse haus, Vienna (AT)
digital frictions 

New Zero Art Gallery, Yangon (MYA)
Myanmar Multimedia Festival
City Museum, Skopje (MKD)
White Night 
City Museum, Graz (AT)
photo biennale 

2022
State of Concept Athens (GR) (grant by Land Steiermark)
2021
Gallery Reflektor, Užice (RS)
2017
Land Steiermark / Come on, Lunz am See
2016
Viertelfestival, Lunz am See
2015
Friday Exit as Kollektiv OutSight
2014
Nationalgallery Mala Stanica, Skopje as Kollektiv OutSight
In Parallel – Graz & Sarajevo
2022
Atelier grant, Styria
2020
Working grant, city of Vienna
2019
Working grant in the frame of the Promotional Prize for Contemporary Fine Art, Styria
2018
Mediaprize WIG, Vienna 
with Maria Hera and FEM